One-on-One Training Program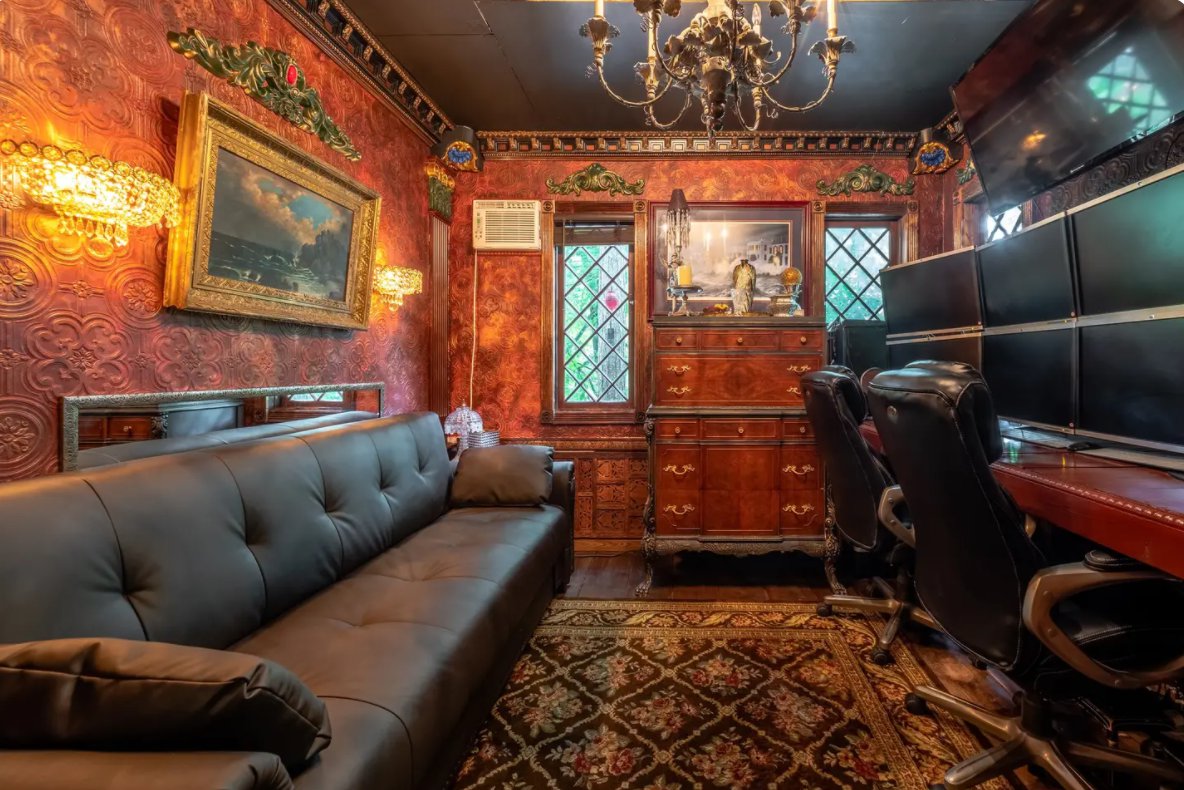 Do you want to learn Forex from me one-on-one with absolute dedication to you? Every question you have will be answered by me personally as you trade in a luxury 18th Century tree house water front office right by my side. Are you interested? Read on!
How would you like to go on vacation... get away from it all in lovely Connecticut, USA and learn Forex from a pro? You will learn: Market Maker strategy, breakouts and breakdowns, candlestick analysis, bar by bar analysis, inter market analysis, scalping, swing trading, chart patterns and harmonics, support and resistance, fibs, the best MA's to use, what to trade and when to trade it as well as when to stand aside, fundamentals, pro trader's mindset, strategy and stop loss, damage control and hedging and washing techniques, how to use MT4 like an absolute pro, how to set up your charts like me, add and reduce strategy, buy and sell setups and what makes quality reversals and how to trade them, 1-2-3 setups, news trading, correlations and how to use them, top down analysis,  Market Makers business model and intentions, tons of tips, tricks and insight, how to trade small and consistent and how to double your account every three months for life. Now that is a lot of training!
Here is my deal; super limited. You must contact me, obtain tickets for your date in advance and schedule this out. If you can take a week off and fly to Hartford...
I will personally pick you up at the airport and escort you to a luxury 18th Century themed antique, water front tree house office, complete with your own private bath, sleeping accommodations, mini kitchen, fridge and water cooler (constant hot water for tea or coffee) and the fastest most powerful 8 monitor trading computer money can buy at our disposal as you learn.
You will trade right by my side from 6 or 7 am (your choice) as I run my live trade room until the 12 noon doldrums.; at which time we will quit trading for the day and go over Forex together for as many hours more as you can handle.
Around 4 or 5 pm when you and I are both burnt out, I can leave you alone to sack out on the couch, watch a big screen TV, while we make you dinner... or we can go out to restaurants or the town for a bit of relaxation before you call it a night. You get 5 days of this training. But seven days total stay from Sunday to Sunday.  I promise to cram as much Forex info into your head as you can handle in one week. My goal is to take you from newbie to pro blazing fast.
It's not ALL work! Let's have a nice weekend together as well. On Saturday it's your choice.  You can do anything you want. If you want to be alone that is fine.  If you want to go kayaking, fishing, bike riding or hiking I'll be glad to go! If you would like to hang out with me and the family, we can head out for any one of hundreds of museums, castles, mansions or anything you want to do. We will treat you to lunch and dinner again of course and see to it that on Sunday you make it to your flight at least an hour or more ahead of departure schedule.
All meals and phenomenal organic coffee and drinks will be provided to your heart's content. Tell us your favorites and we will try and make it happen and have your preferred foods available.
How does this sound? The cost is $2,500 for one very full week plus a plane ticket to Bradley International (BDL). Room, board, meals, training and all transportation is included in this plus a Saturday of fun (if you want it). Want a cook out on the deck with steaks overlooking the water as we sip fine wine or Cognac and enjoy a cigar together?  I'm a pretty easy going guy. I really don't mind anything. You choose what you would like to do and if you don't know I will be happy to provide suggestions to make your stay enjoyable at the world's first and finest Forex Bed and Breakfast.
A workation to remember. I will literally beat everything into your head. You also have access to me for MONTHS after this. I will hand you 2 months of my trade room absolutely free... and you can contact me personally on Skype for one-on-one Q&A for the next 60 days. You will learn Forex from a pro with 19 years experience; one who is very, very good at what he does!
In my past I have seen kinda crazy prices for things. $7.995 to over $10K, and just recently learned of one company that charges folks $50,000 to learn (and they are REALLY bad!). All this for a one or two week "seminar" type thing. They won't put you up or feed you or give you one on one interaction either. I am making this as low and as reasonable as I possibly can for the few that might want to have this. It's not going to cost you $5,500 to learn from one guru that claims to be a market maker strategist (and only teaches you one thing, oh and online in just 3 nights).
You get all this for the price of a normal vacation. Why not make this year's vacation special and learn a skill for LIFE? My wife and I will be your hosts and we are given to hospitality. We will do all we can to make your stay enjoyable and comfortable for you.  You just let us know what we can do to accommodate you.
There are very limited slots available. Spring summer and fall is the best but winter is "doable". The tree house is fully (super) insulated and has heat, air conditioning and is a real "tiny house" but in grand luxury. IF... you want to book in the winter there are still indoor things we can do on weekends but you won't by kayaking on the river is all!
COVID-19 TEMPORARY ANNOUNCEMENT
Due to the travel restrictions and lockdowns across the country as a result of the COVID-19 epidemic, I will not be able to offer the usual one-on-one training and vacation package. I have reduced the cost to $2000 only and will conduct any trainings via screenshare. You will still get the exact same training one on one with me but it will have to be through video conferencing and not side by side. You will still receive the same great learning experience but I will not be able to cook for you or take you out on the town!
Please send any inquiries to michael@michaelstorm.org or contact me on Skype to get all your questions answered.
Please send any inquiries to michael@michaelstorm.org
Click the BUY NOW button below when you are ready to make the payment.
I had Michael up to Toronto for a week back in the summer of 2018. After meeting him on twitter and trading with him for a couple months I decided to take the next step in my trading career and have him come up and mentor me 1 on 1. First thing Michael did when he got here was setup my screens so that I could see clearly. I cannot tell you how much this opened my eyes to the forex market; it was if I was seeing for the first time. After initial setup we delved into the charts, market psychology, where to place bid/offers and how to continually work in/out of a position. It was truly as if you were watching Michelangelo paint with how he worked his trades. Before coming up I had gotten myself stuck in a GBPJPY position that went against me big-time. Michael taught me the washing method and by the time he left that week, we had actually made money on the trade. We had also gained 30% on the account by only trading very small lots. Michael is truly a very gifted trader and great mentor. I am forever grateful for his tutelage and still trade with him to this day.
I attended Michael Storm's private training sessions for a week at his awesome treehouse. He and his wife were so kind and attentive to my every need. Michael went above and beyond to show me some beautiful areas around their home. It was eye opening to see him trading from eight monitors and be able to see the flow of the Forex markets. Michael helped me create a system based on my needs and my lifestyle, as well as taught me to trade in and out of the market as he does. We had some great discussions about what retirement could look like for me in a few years. Michael's thought process is creative and he sees solutions rather than problems. He has a wealth of knowledge on many financial subjects beyond trading. Without hesitation, I would recommend this training for anyone with an interest in Forex.
First I must say that the one on one Forex training with Michael Storm exceeded my expectations. I've had training with several different companies including MTI and IML. This by far was the best of all. I would rate my experience as a five-star (+ plus) training series. Mr. storm presented himself in a very professional way and he demonstrated his natural ability to teach. Teaching is not an easy task. It requires a relationship between the teacher and student, to know how best to get the information across for the best learning situation. From the time I arrived on June 16, Sunday morning until I left on Saturday, June 22, it was an exciting experience. Because of prior experiences with other companies, I was expecting pretty much the same routine. That is, to show how things work and how to put on trades, and see the results and that would be it. But it wasn't that way with Michael Storm. I had to demonstrate to him that I was understanding the principles he was setting forth. He didn't challenge me just once or twice or three times, he challenged me every day several times a day on what I was learning. That's the mark of a good teacher. He demonstrated a genuine interest in my learning.
The treehouse experience is one that I shall never forget. In my opinion, it was first class, although it needed to be a little bit bigger, it was still conducive to learning. As an added benefit, his family made my experience a worthwhile venture. His family was the icing on the cake. By the way, the cost for this course is way under priced considering the amount of time that Michael spends with each student. If there will ever be a level II course offered by Mr. Storm, I definitely will be a part of it. I highly recommend any Forex Trader to take his course. Thanks again Michael for all of your help. If anyone desires additional information, you may email me at aaronho2004@yahoo.com.
I found Michael Storm on YouTube one day when i was looking for some videos to help me figure out this Forex market. I had been trying on my own for about 9 months, watching everything I could find, subscribing to all kinds of different services, robots, signals,etc. The only thing that was consistent was how often I had to keep adding funds to my trading account. After I read though Michael's whole web page and watched all the free videos, I had to try one more time. After a couple weeks, and lots of videos and reading from Michael's book list, it started to come together. I was actually making money and no longer feeding my account with my extra money.
One day, in the live trade room, Michael was talking about doing one on one training at his home. A whole week of " All you can take Forex". When does that happen? When does anyone offer to take you in and teach you all they know ...without having to spend an astronomical amount of money? And then, pick you up, drop you off, feed you, house you, entertain you when you just cant take anymore Forex for the day? IS THIS FOR REAL? Well, it's been about 2 weeks since I got back home from my one on one training. It was amazing. Michael is an awesome teacher and he really loves helping people. The tree house office is a really fun place to stay. What I learned in my time with Michael would have taken me years on my own and it would have cost me 100x what I paid for my training. Thanks to Michael, I am now working on closing my business and becoming a full time trader. This is exciting. If you want to be a trader, you need to do this. How much will it cost to learn the hard way when you have someone who will help you for next to nothing and get you on the right path right away? Michael, I can't thank you enough and next time, I buy the Margaritas!
If you want to come trade side by side with an experienced trader with two decades of seeing the same market patterns over and over again to give you high confidence when you trade then this one to one is for you! Rarely do you get the opportunity to sit side by side with a professional trader and ask any and all the questions you've wanted to ask. More importantly Michael gives you honest and real answers. It will help you understand what your daily routine should look like. Michael will show you the details of his strategy and system. You will walk away with a plan. You'll know when to trade and more importantly when to stay off market. You will know how to work a trade when it goes wrong. This is huge! I have taken a lot of trading education in my years of trading and this was the best. An added bonus is Michael's wonderfully sweet family and beautiful Connecticut countryside. In short, I highly recommend this one on one boot camp type experience!
I first discovered Mr. Storm on YouTube and then immediately subscribed to his trade room. After studying all of the included video vault I decided to take it a step further and went to trade with Michael for 7 days. This has by far been the best learning experience I've had in my Forex career. Sitting next to a 19 year experienced trader allows you to drastically cut your learning curve. The in person training made it very easy to apply all of the knowledge I had learned about Forex while also gaining tons of tips and tricks that only very seasoned traders have picked up on. I would recommend going to trade with Michael because he understands the Forex market far more than anyone else offering mentorship and it only costs a fraction of the price! Thank you for all of the pips Mike!
My time with Michael was wonderful. Due to the corona virus, I was unable to travel. He was still able to help with setting up my charts remotely and talk me through setting up accounts. Michael is the real deal. He pours his heart and soul into teaching you and is extremely patient while you are trying to grasp all the information. I am a complete newbie at this, and have watched all the fake traders out there. Michael's process was the only one that was logical, made complete sense, and actually worked! I am just beginning on my journey and know I have the best possible foundation. I have a feeling it will be quite the ride. I am forever grateful for all you've taught me. Many, many thanks!